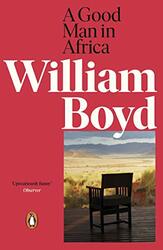 Last read:
Fri 13th Oct 2017
---
---
Synopsis
Morgan is a 30 something diplomat in the British Commission in the second city of a west african ex colony. A failed dalliance with the Commissioner's daughter, a black mistress installed in a seedy flat, affairs with ex-pat wives, a politician trying to get him to bribe a white doctor t the university to allow a development to go ahead, elections and potential military coup in the air...
Reviews
Review of "A Good Man in Africa"
by Roger on Fri 13th Oct 2017.
Billed as a comedy I think he was trying to do a "Scoop" but without the comic sense of Waugh. An ok story but not wholly satisfying