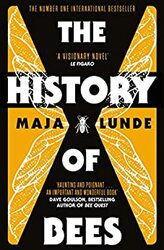 Last read:
Sun 14th Jan 2018
---
---
Synopsis
Three intertwined stories across time (1850, 2007, 2049) about bees and beekeeping. CCD provides the main hook, but also about more than bees - failure of expectations.
Reviews
Review of "The History of Bees"
by Roger on Sun 14th Jan 2018.
Excellent, engrossing, page-turning, thought provoking.