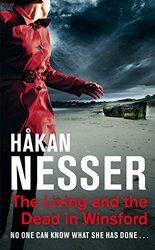 Last read:
Sat 30th Nov 2019
---
---
Synopsis
Woman and her dog spend the winter in isolated cottage on Exmoor on the run from her demons
Reviews
Review of "The Living and The Dead in Winsford"
by Roger on Sat 30th Nov 2019.
Very good read. In the first third you really get inside her head and build some empathy. In the middle third some questions start to arise - some of which are never fully resolved (the Polish hire car, the disappearing dog, the seer Mark Britton - and when it happens the twist at the end seemed a little arbitrary, but thinking about it it was the only possible ending and better than the alternatives.