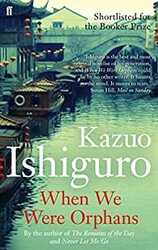 Last read:
Sun 4th Feb 2018
---
---
Reviews
Review of "When We Were Orphans"
by Roger on Sun 4th Feb 2018.
A strangely disturbing story that starts simple enough but told in the voice of a what we see as an increasingly delusional narrator veers into fantasy nightmare dreamworld. Having visited that abyss everything gets resolved at the simple surface layer but left with a feeling that perhaps it is all a dream dreamed one afternoon long ago in a sanatorium. Yes the obsession with wanting to know what really happened, and the belief that perhaps they are still there, somewhere, rings so true. The disconnect between the narrator's view of himself and the glimpses we get from others point of view, especially school friends he bumps into, leads one to mistrust everything one is told and also wonder what we are not being told. At one point I became convinced that the narrator must be a half-caste chinese-english, later that these were clearly the ramblings of an insane broken mind attempting to come to terms with a childhood trauma. The truth is only in what you read into it.