An actor's involvement with the characters he plays
Cast:
Country:
USA
Original Language:
American
Setting:
Broadway, New York
Camera:
35mm Film
Aspect Ratio:
1.37 (Academy)
Black & White
Mono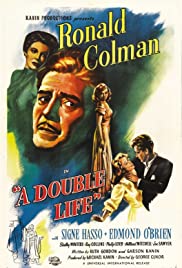 ---
Last seen:
Mon 8th Mar 2021
---
Synopsis
Anthony (Tony) John.played by Ronald Coleman, is a successful stage actor on Broadway who is known for becoming consumed by the characters he plays. Coming out of a successful middle class comedy (think Alan Ackbourn for the 1940s) - the extract we saw on screen was certainly "hilarious" but not in the way intended - he is tempted to tackle Othello.
Brita (Signe Hasso) his ex-wife, co-star and companion (they separated as a result of previous episodes where he had become a bad character he was playing but still have a bond), is nervous about taking it on - but he goes for it with Brita playing Desdemona.
Somewhat inevitably the green-eyed monster that invades Othello and causes the tragedy enter Tony as he takes on the character. The consequences are murderous, but not for Brita.
Reviews
Good screen acting representing bad stage acting
by rogerco on Mon 8th Mar 2021. Streaming proj @ home
Well the stage acting was awful - as was presumably the norm at the time. Some of the morality of the story is dubious - the cop out ending where Tony (Ronald Coleman) is excused from facing the consequences of his actions is dubious, as is the use of the waitress as a proxy to be murdered in place of Brita (Signe Hasso), his co-star on stage and one-time wife.
Putting that aside it's a good story well filmed (as you'd expect from Cukor) that moves along nicely. Four stars only by not judging it by today's standards - otherwise it would be 2 at best.