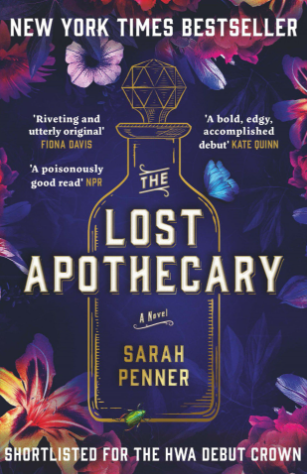 Date first read:
Wed 27th Jul 2022
Format: Kindle
Catalogued: 27th Jul 2022
---
Synopsis
Two time frames - today and 1791, three voices - Caroline (today), Eliza (the child 1791), and Nella (the apothecary 1791)
In 1791 Nella has made a business by providing women with the means (poisons) to dispose of troublesome men (unfaithful liars). Eliza stumbles into her life just as it all starts to fall apart.
Today Caroline has come to London for a romatic week with her husband but discovers he is unfaithfully just before leaving so comes alone and upset. She goes on a mudlarking tour along the edge of the Thames at low tide and discovers a small blue bottle. Seeking to find out more about where the bottle came from she uncovers Nella and Eliza's story. The husband flies in to try and make it up, but fails as Caroline has realised that she wnts something more from life.
Reviews
A Lost Opportunity for a good book
by rogerco on Wed 27th Jul 2022.
The eighteenth century story is competently told although seemingly a little unlikely, the probelm comes with the appalling wet american woman and her nasty husband in the today section. I guess this is targetting a romantic fiction audience but I found her frankly tedious and pathetic and the husband no more than a cadboard figure.
Shame as there is a good book to be written using the basic plot idea, but this is not it.