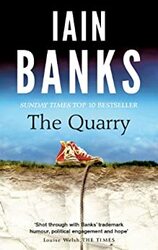 One review on 16 Nov 2020
First Published: 2000
Fiction
The Quarry
Author:
Iain Banks
Summary: Of middle class friends and family. A dying (young) father assembles his old Uni pals for a farewell observed by his teenage son. The past is not perhaps as consequential as it seems...
Original Language:
English
Date first read:
Mon 16th Nov 2020
Catalogued: 17th Jan 2021
---
Reviews
by rogerco on Mon 16th Nov 2020.
No review text submitted