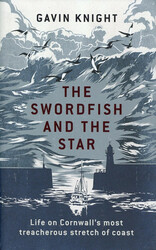 Date first read:
Thu 5th Jan 2017
Catalogued: 30th Dec 2021
---
Synopsis
Life in the fishing and artistic communities of far west Cornwall from 1970s to date. Created from interviews with the participants.
Reviews
Review of "The Swordfish and the Star"
by Roger on Thu 5th Jan 2017.
Written in a disjointed tense which makes it hard to read at times (present immediate reported?) but a compelling picture emerges of interlocking hard lives and loves.