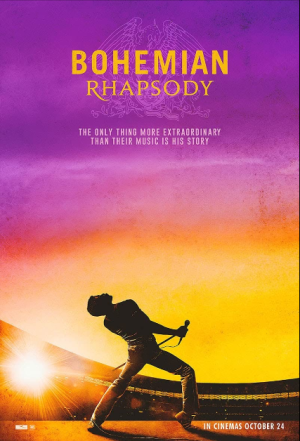 ---
Aspect Ratio: 2.39 (Bollywood)
---
---
---
First Seen:
Sat 11th Mar 2023
Catalogued: 12th Mar 2023
---
Synopsis
Awkward boy meets band in need of lead singer and girl who falls for him. Cultivates a flamboyant image. Becomes big star more by falling into the right A&R hands, than any inherent talent. Produce a string of anthemic hits. Awkward boy leaves band to try solo career. Falls into the wrong hands and only suceeds in becoming a gay icon. The girl comes to visit him in the rain in Hamburg and he sees the error of his ways and returns to the band in time for the Live Aid africa gig and discovers he has AIDS. Big concert goes well and the rest is silence.
Reviews
by rogerco on Sat 11th Mar 2023 DVD proj @ home
Nothing Special here, move along please.
Summary
Not a deep or informative dive into Queen.
Full review
Sometimes a film based on a true story can make you like, or see its subject in a different light. Although I knew, and sort of liked, all the anthemic songs and thought Bohemian Rhapsody the song was quite clever at the time, I was never a 'fan' of the band, I never owned any of their records or saw them live.
This film version does nothing to change my opinion of the band and its singer as nothing special. We see them get a very easy ride to stardom by falling into the hands of a good A&R man and an honest manager rather than the usual rogues. We see mostly performances on stadium stages and little or nothing of any struggle to achieve stardom with artistic integrety intact. We see the lead singer as a narsacistic self-indulgent exhibitionist who manages to dominate and manipulate those around him, and not in any way as an real person - maybe he was like that.
As a movie it is competently made and executed. The montage scene of a US tour is a bit cheap and rubbish but aside from that it is well done. If you delve into the online comments there are loads of quiblles about the chronology - but those you need to accept as means to compress key events into a coherent 2hr narrative. There are also lots of factual errors and anachronisms in the settings - but those you need to accept for a film made 40 years after the events it portrays.
At the end of the day it is a creative representation of its subject and not a documentary. As such it is probably quite good if you were a fan of the band and can live with the quibbles, but a waste of time if they were just some ok soundtrack music to your younger life. If you are too young to remember them it might give you a flavour of why people liked them - they created anthems for mass performance.