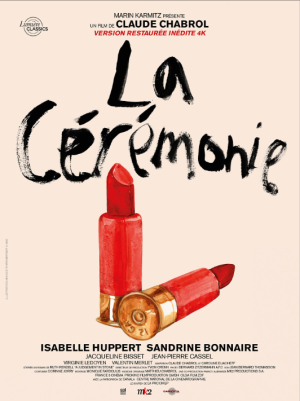 One review on 16 Mar 2023
France 1995
Running time: 111 mins
La Cérémonie
Director :
Claude Chabrol
Original language
: French
Summary: Maid with a secret or two gets job with rich family in isolated house in Brittany. Is befriended by postwoman who persuades her she is exploited. Class war ensues.
---
---
---
---
First Seen:
Thu 16th Mar 2023
Catalogued: 18th Mar 2023
---
Synopsis
From the initial meeting between Sophine (Bonnaire) and Catherine (Bisset) we are aware there is something strange about Sophie, but we get drawn into her story. The family she goes to work for are wealthy with a sense of entitlement and arrogance, but Sophie is a loner.
The postwoman, Jeanne (Huppert), forces herself on Sophie as a friend. There is something a bit odd about her too, and we soon discover their similar secret pasts. We also learn of Sophie's more personal shame which explains some of her behaviour.
Thus the stage is set for a final showdown with a satisfying ambiguous ending.
Reviews
by rogerco on Thu 16th Mar 2023 Streamed proj @ home (Subtitled)
Classic French post new-wave Film
Full review
The cast is excellent. Good acting by good actors creating believable characters. The story is solid - although not totally convincing in the motivation for the dennoument. The film is well made - direction, camerawork, editing, mise-en-scene all faultless.
Doesn't really work as either a thriller - not a lot of suspense - or a psycho-drama. But entertaining as a mystery as the secrets are teased and then revealled.