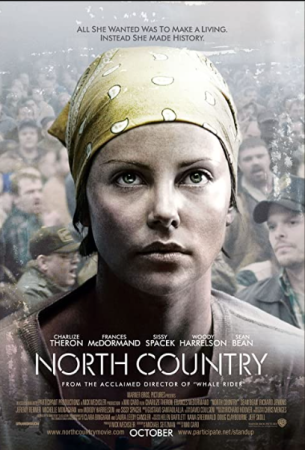 ---
---
Aspect Ratio: 2.35 (anamorphic)
---
---
---
First Seen:
Sat 21st Jan 2023
Catalogued: 22nd Jan 2023
---
Synopsis
Josie Aimes leaves her abusive husband and takes her 2 children back to her hometown where her dad, like most of the men and very few women, works in the mine. Dad is vehemently opposed to her taking a job at the mine as it is not woman's work - an attitude shared by all the male workforce.
After arguing with her dad she moves out to stay with an old schoolfriend, Glory (Frances McDermot), who also works at the mine and is a union rep.
The small band of women suffer endless abuse and harrassment which becomes quite toxic for Josie. Eventually Josie is driven to take action, persuading a friend of Glory and Hank's, a retired lawyer who has moved back to the town, to take her case. 
Based on the true story of Lois Jenson who worked there for 13 years from 1975 before taking legal action and finally winning after 20 years the film compresses this into a couple of years and over dramatises the courtroom scene at the end with support from co-workers finally emerging at the very last minute.
Reviews
by rogerco on Sat 21st Jan 2023 DVD proj @ home
Good but not Great
Summary
Good, but not great. Josie not believable and courtroom scenes, particularly at end, OTT
Full review
Obviously this is a difficult true story to dramatize as in real life its a slow burn that can't easily be compressed into 2 years. Two main quiblles with the film - firstly that the character of Josie didn't seem tough enough to have done that - especially played by a slender beautiful woman. Secondly the courtroom scenes, particularly at the climax, were a bit ridiculous - I don't believe a lawyer would be allowed to browbeat a witness in quite that way even in the US.