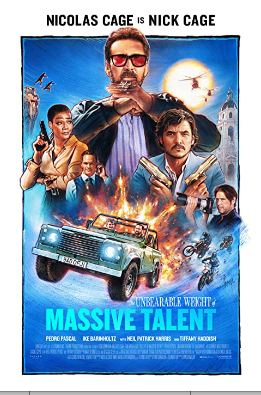 ---
---
Aspect Ratio: 2.39 (Bollywood)
Tech Notes: Arri Alexea & Dolby Atmos
---
---
---
First Seen:
Sat 7th Jan 2023
Catalogued: 13th Jan 2023
---
Reviews
by rogerco on Sat 7th Jan 2023 DVD proj @ home
If Only
Summary
If Only there was massive talent involved then the title would be appropriate.
Full review
It is almost a meta-film about the film industry, but mostly its just another excuse for some action sequences involving cars and guns and jumping off cliffs etc. Once he gets to the island it starts off on a wisecracking buddy track as Nick and Javi circle around each other, but sadly it declines into a routine 'straight-to-video' (or nowadays straight-to-streaming) flic of no great value.
It is entertaining in parts, but there's more than a touch of misogyny in the treatment of the female parts, and the cartoon CIA operatives and black clad baddies are risible. Not quite unbearable but pretty ponderous.