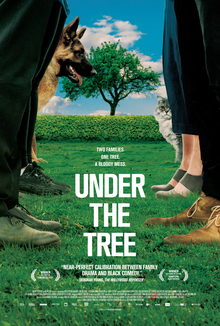 ---
---
Tech Notes: Camera : 0. Talkie
---
---
First Seen:
Wed 13th Jan 2021
Catalogued: 14th Jan 2021
---
Synopsis
We start with Agnes and Atli in their flat in a block having marital problems resulting in Agnes throwing Atli out and excluding him from their daughter Asa. At his parents house there is a simmering dispute over the neighbour's new wife wanting a tree in their garden trimmed so it doesn't shade her patio. Attli's mother, Inga, has taken against the new wife next door Eyborg, although the father Baldvin is more accommodating with the man next door, Konrad.
Atli's brother has disappeared, presumed dead, but not accepted by his mother who is clearly suffering. Events, both between Alti and Agnes and between Inga and Eyborg escalate. Alti takes Asa from kindergarten, Inga's cat goes missing and she blames Eyborg...
Reviews
by rogerco on Wed 13th Jan 2021 Streamed proj @ home (Subtitled)
This is not going to end well...
Summary
Lovely dry black humour for a suburban desert that the characters are trapped in.
Full review
Excellent performances from all the main characters. As the threads start to pull together the ending becomes a bit inevitable but perfectly realised - right down the the ironic comedy last shot.