Young nurse providing palliative care for dying dancer goes loco
Cast:
Country:
UK
Original Language:
English
Setting:
Scarborough, UK
Camera:
Arri Alexa Mini
Aspect Ratio:
2.39 Widescreen
Colour
Dolby digital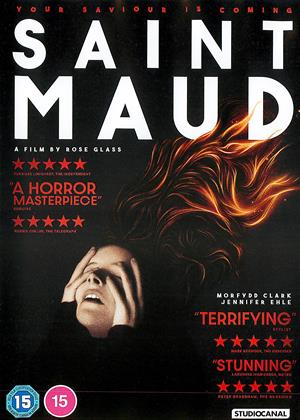 ---
Last seen:
Sat 27th Nov 2021
---
Synopsis
Nurse Maud (Morfydd Clark) works for an agency having left the local hospital in unexplained dubious circumstances and goes to provide live-in care for ex-Dancer Amanda (Jennifer Ehle). She has also got religion big time and talks to god believing he speaks back to her.
Their relationship evolves, Maud believes in a significant way as Amanda nears death. Maud starts to try and exclude Amanda's friends who visit and engage ply Amanda with drink. At a birthday party for Amanda Maud is driven to slap Amanda and is promptly dismissed.
Now her religion starts to really take hold of her as she is unemployed and unemployable. She spirals down and when she sees the new nurse with Amanda in her wheelchair on the front she determines to return.
Entering the isolated old house on the clifftop she confronts Amanda, who reveals that she was only pretending to share Maud's religious experience. A pair of scissors to the jugular delivers Amanda to her maker and Maud returns to her dingy bedsit to prepare herself for the end.
The final scene on the beach sees Amanda, dressed in her bedsheet and crucifix, go down to the beach, pour a canister of inflamable liquid over her head and strike a light.
Reviews
Mercifully not very horrific
by rogerco on Sat 27th Nov 2021. DVD proj @ home
Good performances from the two women as Amanda and Maud. The story had the potential to be quite a good thriller focusing on the relationship between the two women and the tensions with their friends.